What a busy week or two its been!
Where to start?
I spent the week before the baby shower preparing my house for mom's visit and getting all the things needed for the shower. We also received our stroller and bedding in the mail that week! Woot woot!
On Friday (the 26th) Clint and I went to Phoenix to pick up Mom. But since her flight didn't land till 8:45, we had scheduled a 3d ultrasound for that afternoon! The ultrasound was at two and it was so exciting to get to see him in 3d and not so skeleton like, like the ultrasounds we get at the doctors office!
He's got the chubbiest little cheeks!! He's gonna be a big boy!! But a cute one! :) He was moving around the whole time! The umbilical cord was kinda in his face, blocking the ultrasound a bit, but that's alright. He's DEFINITELY a boy, btw! :p His legs were up over his head, and he's not head down yet. Of course this was non-diagnostic so they don't tell us anything like that. I'd love to know how big he is and things like that, but they don't tell you. But we could see his heart beating strong, so that's a good thing for sure!!
After the ultrasound we had lots of time to kill! Clint's been wanting to go to a Bass Pro Shop for years, so we finally did that. The one we went to had a restaurant inside, so we had a late lunch there. Then we took our time walking around the giant store, checking things out. We picked out a few things for Zane. I spent probably half the time sitting on a bench, I can't lie. I was getting tired and achy and had no desire to watch him drool over fishing stuff. lol! We were there for about 3 hours including lunch, so you can't blame me! But it was alright, I had a book in my purse! Clint got a few things he'd been wanting, so that was good.
Then we headed toward the airport, I think. Oh we went by Wal Mart first. Mom's flight got in about 15 minutes early, so she was getting off the plane while we were approaching the airport, we beat her to the greeting area though! :) We stopped at a Chick-Fil-A for a late dinner then headed home, chatting the whole way.
Saturday didn't seem long enough! Mom made breakfast, we relaxed, got ready for the day. Had lunch with Clint's Mom, sister & her family at the diner and then his Mom and niece came over to visit for a while after. The day just got away from us! We did some baby shower prep and planning but weren't as prepared as I'd hoped to be by the end of the day, but oh well! It was good that Mom got to spend a lot of time with my MIL. That doesn't happen often and I feel like they really got a good chance to get to know each other this time, and they seemed to get along great, so that's wonderful!
Sunday was shower day! We were running kinda behind, but everything turned out great! The wind was a little much, but what can ya do? There was a big 24 hour softball tournament at the park the day before, so the park was kinda a mess.. the trash cans were overflowing and the porta potties needed attention. :/ But other than that it was very nice!! I had a decent turn out and got a lot of great things and had a great time with my friends and family!
Here's some detail pictures. It was elephant themed, although not too heavily. LOL One of my best friends made the cutest diaper cake!! She actually made the little elephant on top- so cute!!! It'll be in his nursery for sure!
My good friend Ana makes these great keepsake items! Visit her Etsy shop
here
! She did so much for me, and its all so cute!! I especially LOVE the box. Its just so perfect for his nursery, and the colors are great! And she even put Zoey in the fishing boat with Zane! Too cute, and just perfect!! The mobile she made is her first ever mobile! I'm proud to have it! She's just so creative!!
Just a few group shots! Love the one of me with the Zane's Grandma and Nana!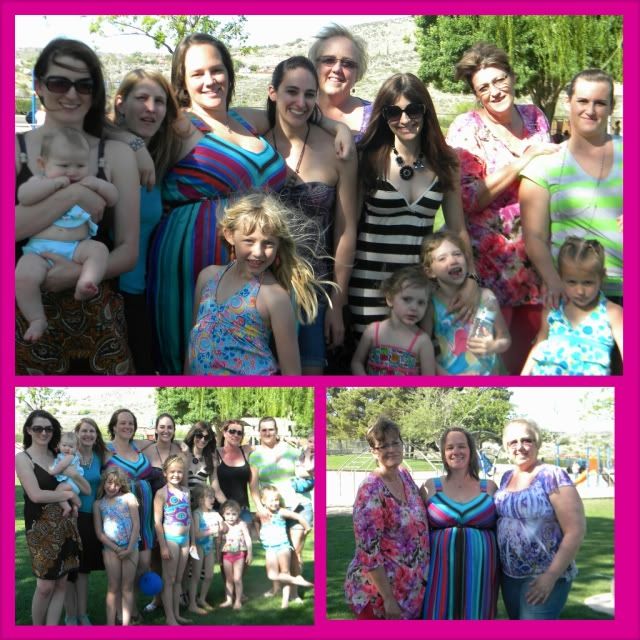 Opening presents! My MIL made a whole bunch of blankets and hooded towels (bottom left). I wish she had an Etsy shop! My friend Jenn (the photographer) made the car seat cover with the little snakes! I picked out the fabric and she did a great job! I'll have a pic of it on the car seat soon, I'm sure!
The next day I had to take Mom back to the airport, but first we stopped and got the gifts from here! She wasn't gonna travel with them and wanted to make sure I got something I needed and wanted. So she got us the car seat and pack & play!! Love love love!! It feels good to finally have all of the big important things at our house! We've just got a few big things left, like the monitor!
I dropped her off around one, and then went to the mall and hit Carter's! I had been waiting till after the shower to do much shopping of my own, but I didn't get a ton of clothes at the shower, so I had a blast in Carter's. Although I did feel like I had no idea what I was doing! LOL No idea how much of the different items I needed, but I got him a lot of cute stuff, all on sale and a coupon on top of that, so I got a great deal!
That was Moday. Tuesday was a day at home, cleaning up some of the baby shower clutter and such. I was tired, needed an easy day for sure!
Wednesday I went to Prescott for a girls night in, and had a great time hanging out with my friends, just chatting and stuff! It's been a while since all 5 of us have been together! I spend the night and Thursday morning I did some shopping... Got Zane's mattress and some other things. Then I went to
Robin
's house to go through hand-me-downs. She has two boys, 1 and 3 ish and they've had lots of clothes, of course! My oh my what a big pile of clothes I came home with!! LOL Since I don't know what I'm doing, I took pretty much everything that was seasonal.. meaning no long sleeve newborn and 0-3 clothes. I think I came home with three trash bags full. Yowza!! Thanks Auntie Robin and Garrett & Blaine! She also had some other play things and a boppy and I can't even remember what else for us!
The next day was back at work. Clint's supposed to be working on the nursery furniture. Well he opened up the crib/changer boxes and couldn't find hardware anywhere. So I emailed the manufacturer but they're not there on weekends so I won't hear back till tomorrow at the earliest. Hopefully they'll just send us the hardware... it would be a pain to have to haul it all back to Wal Mart to make an exchange! So he started to look at the dresser yesterday and decided that he needed help. So last night after work I went in there and we started on it. Mostly I was gonna hand him things and hold things in place while he did the drilling.. But then I realized how much instructions can frustrate him. haha! So I took over the instructions and it was my job to figure out how things go, his job to put it together. We make a good team and didn't even get mad at each other in the process! We got it about half way done, we'll finish tomorrow unless I'm feeling really ambitious tonight (not likely). I'm looking forward to finally having SOMETHING put together in there! LOL And with the dresser, I'll be able to put all the clothes away and put some decor on top of it. It'll be nice!!
Well I think that's it! I'm gonna leave you with my latest belly shot! :)
(Ignore the mess behind me)