Time for my weekend update! :)
Guess how many walks I took last week?!
None.
Whoops!
Let's see how my week went..
Monday Clint and I went to Phoenix. Had lunch, got him a tablet (yay!), and did some shopping. Mostly groceries, but I did get a pair of maternity shorts that I love! Also stumbled into a Babies R Us. I didn't get anything, but it was nice to see all this baby stuff up close and personal instead of just online! We had a mostly nice day, with a few hiccups. Got home later than we wanted to and I was exhausted! I didn't even get all the groceries put away, just the cold stuff. So no real walk that day, but I walked around stores so that's something!
Tuesday I didn't go for a walk but I was crazy productive around the house! So it was worth it! I need more days like that!! I did all the stuff that was on my list for Monday and Tuesday, and did a little bit in the craft room.
Wednesday was very opposite. I was suuuuper lazy. Oh well! Can't win them all. I swear I barely left the couch. I blame the snow we were getting! :p
Thursday I covered at the fitness center, opening shift, meaning 4AM-1PM. Yawn. I managed to stay awake at work.. I think. I had a package to pick up at the post office and it was the clothes I ordered from JC Penny at least 2 weeks ago... finally! (In their defense, it was all clearance, and they probably had to ship from multiple warehouses to get it all in one place before shipping to me, so thats why it took so long.) Luckily, I liked everything. I got a pair of flats that don't fit perfect, but they're cute and I'm wearing them now! I got a maternity shirt that won't be my favorite, but it will work. And I got a "maternity basics" kit of sorts which had a tank, a tee, and leggings. I've really been needing a long tank top, so yay! And I think the black tee will be good for some of my maternity pix. Its just a plain simple tee shirt. Leggings.. IDK I always want to wear them but I never know how, so we'll see! After trying on all my new stuff, I ended up napping for a couple hours... no surprise! And that was Thursday!
And today is Friday and I'm at work.
Walks will start Monday.
Really.
So I mentioned last weekend that I was feeling him move. I didn't feel him since until yesterday! He really likes to keep me guessing! I've been feeling him a lot yesterday and today, so yay!! Maybe he's not gonna be so shy. Last night we were laying in bed and I put Clint's hand on my tummy, hoping he'd be able to feel something, but baby boy wasn't moving! Then Clint fell asleep with his hand there THEN baby starts moving around! Figures! Oh well. I don't know if you can feel it from the outside yet anyway. I can never tell. He'll feel it soon enough, I'm sure!
So I have been in nursery mode this week!! Months ago I had planned this whole black & white with either blue or pink nursery, depending on the gender of course. So once we found out he's a boy, I was still planning on that. Then I went into that Babies R Us and saw other cute stuff.. Damnit, gotta change my whole plan! The bedding that got me started was called Snickerdoodle, and it was gender neutral and giraffe themed. Super cute. But there was like no color in it. Mostly just tan and light orange. So I started looking around more. Then I thought about fish! Clint loves to fish. At first I was thinking cutesy fish but then I started seeing fish themed nurseries on Pinterest with real-looking freshwater fish and Clint and I actually talked about it and we think its a great idea, so the nursery is officially fishing-themed! I'm really excited about it! I like that its different, kinda original, and something that Clint can relate to! And chances are our boy will be into fishing! So we're gonna paint the walls a light blue. I don't think we're gonna get crafty with the paint, but we may if we can figure out something that's fairly easy. I don't want to try to get creative and have it look like crap! lol.
We're gonna put these fish decals on the wall somewhere, not sure if they will go around the entire room, just one wall, or what. We'll see how they look once we have them.
I want a rug. I'm looking at this one, but not 100% sold on it. We'll see!
I LOVE this idea of a fishing net for the stuffed toys instead of a hammock like you see a lot. And the little bobbers hanging from it would be easy to make! Cute!!
We also love this idea for wall decor! I found the plush fish on Amazon. We'll just have to find a stick and we'll be set!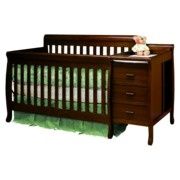 I don't know if I'll get this exact crib, but I do want a crib/changer combo. This one is at Target. I'll get all dark brown furniture. The glider I'm looking at is actually white, but the coushins are dark brown.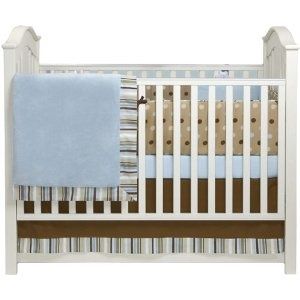 This is the bedding I'm gonna get. There's no fishies on it, but the colors go well.
Also I have a friend, Ana, who has offered to make me a fishy mobile! She's never made a mobile, but she's made other great things, so I know it will come out great! She has an
Etsy shop
, if you're interested! Thanks so much Ana!!
If you want to see the rest of my Pinspiration for the nursery,
click here!
:)
And just for shits and giggles, here's just about all his stuff so far! The blanket that Nana made isn't in there, or a couple stuffed animals that he has. Its not much, but its a start, and I'm trying not to buy too much yet, especially clothes, because people like to buy stuff, and I'll have a shower. Trying to wait till after that to go crazy! But we are gonna buy all the important stuff- furniture, car seat, etc.. probably the bedding too! I just want to be SURE that I have it.
While doing all this nursery planning, I've also been building registries! Mostly on Amazon, but also Target. I'll add more to the Target registry next week when I can do it in person. It's just easier to find things that are available in the store if you actually register in the store! Go figure! I want people to have in-store and online options, so that's why I'm registering at both places. My
Amazon registry
is getting big fast! I know I won't get much off of it as a gift, I'm mostly doing it for me! Its like my shopping list. Like, the bedding is on there, and I plan to order that before too long. Its just convenient to have it all in one place! I do hope that people shop off the registries though.
Well I think that's a good enough update for today! I better get ready to close up shop!
Till next weekend...